I am a dedicated and qualified complementary therapist since 1999.  After having worked in offices since leaving school I have encountered  many stress–related illnesses amongst my colleagues, especially in my last job working for a local newspaper, there were constant deadlines and most days, although not boring, were very stressful and I began to see more and more people being affected by their jobs.
I began to think that there should be something that they could do to help them to manage their stress and that's when I came across Complementary Therapies and decided that was what I wanted to do – to help people!
I began reading about reflexology and thought it was such an interesting and amazing treatment that I quickly found a course and began training in it within a few weeks. Whilst training in reflexology, I also trained in Indian Head Massage and Reiki. These three treatments benefitted so many people and I was so passionate about my new line of work, though it didn't feel like work to me.
Since then I have become qualified in numerous different forms of massage and reflexology and I am also a qualified aromatherapist, which I completed in 2016.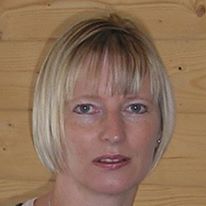 Capabilities/Qualifications
• Member and registered Practitioner of the Complementary Therapy Association.
• Student Member of the Federation of Holistic Therapists
• Certificate of competency to practise reflexology
• Certificate of Competency to practise Indian Head Massage
• Trained to First, Second and Masters Degree standard to practise Reiki
• ITEC Diploma in Body Massage
• ITEC Diploma in Anatomy and Physiology
• Diploma in Holistic massage
• Certificate of Competency to practice Thermo-Auricular Therapy
• Certificates of attendance of Vertical Reflex therapy training – basic, advanced and endocrine
• Certificate of attendance to practise Chinese reflexology
• Certificate of training in massage for pregnancy
• Practitioner Diploma in Daoyin Tao
• Certificate of attendance in The Metamorphic Technique
• Certificate of training in Thai Foot Massage
• Certificate of attendance in Cancer Palliative Care for Complementary Therapists
• Practitioners certificate in Lymphatic Drainage Massage
• Practitioners Diploma in Advanced and Deep Tissue Massage
• Practitioners Diploma in Warm Bamboo Massge
• Certificate of attendance in Advanced Indian Head Massage
• Certificate of Advanced Reflexology
• Certtificate of Completion of SLM Bodywork
• Practitioners Diploma in Myofascial Release
• Practitioners Diploma in Hot and Cold Stone Massage
• Statement of Attainment in EMM-Tech
• Certificate of Attendance of Modules 1 & 2 of the Emmett Technique Practitioner Training
• Current first aid certificate
• Donna is now a fully qualified Aromatherapist since May 2016
GET IN CONTACT
If you require any more information, please contact Donna directly on 07790 789036. Or simply fill out the form on our contact page