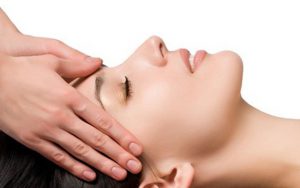 Indian head massage is traditional massage treatment originating from India. It involves the application of massage techniques. To the upper back, shoulders, upper arms neck face and scalp. a safe simple, yet effective therapy that not only promotes hair growth, but also provides relief from aches and pain it is renowned for relieving symptoms of stress and many other stress-related conditions.
Treatment can be done with or without oils whiles the client sitting and fully clothed, in an ordinary every day chair.
Physical Benefits
Improved blood circulation-massage increased the flow of oxygen and other nutrients into tissue of the body and brain, encouraging healing and better concentration
Migraine and headaches.
Encourages hair growth.
Help to relieve eyestrain and tension headaches
Stimulate lymphatic system
Psychological Benefits
Helps to relieve stress, anxiety and depression through its uplifting effects.
Rejuvenates and refreshes the mind and body
Emotional release may be experienced by the client
Reactions to Indian Head Massage
A client's reaction to Indian head massage might be different according to their physical and emotional condition.  If the body has been under a lots of stress it is not uncommon for there to be some kind of reaction as the body attempts to regulate itself to its own natural balance.
Below are some of the reactions that a client might experience following an Indian Head massage:
Aching and soreness in the muscle due to the release of toxins and the nerves fibres responding to the massage
Feeling of tiredness this is often replaced by a feeling of revitalisation due to the release of toxin.
An  increased feeling of awareness; clients often experience a feeling of calm, peace and tranquillity.